Learn what makes an ideal work management app. Discovery some of the best project management, task management, and work order apps on the market today.
Working from home has become the new normal. Most people have experienced this unique phenomenon since the pandemic began. When COVID-19 was declared a global pandemic, 88% of organizations worldwide encouraged staff to work remotely or from home to reduce the risk of spreading the disease.
It isn't easy to work efficiently, either individually or as a team, without an accountability system. The solution is a work management app. A work management application provides functionality to add and manage projects and tasks.
A work management app is ideal for anyone who wants to manage a virtual in/out work tray seamlessly.
A well-designed work management app has the following features as a bare minimum:
Easy to use.It matches your unique needs.Users can view their tasks and manage their to-do lists.Job caching according to a user's site.Task syncing to Outlook.Task collection from Exchange and SharePoint.
Work Order Applications
Work orders evolved from employees' need to find a faster and more efficient way to process work orders in a paperless way. Work order apps help field personnel communicate better and aid in successful work implementation and completion.
The Benefits of Using Work Order Apps
Below is a summary of the benefits of using a work order app.
Form Customization: A work order app will help you create your forms just how you want them. Changes made on your documents using work management forms are easy and fast since no programming is needed.Help surmount Internet connectivity challenges: Work order apps can be used both online and offline. This feature allows you to create projects, manage them and complete them without an Internet connection.Time-Saving: Work management apps are usable anytime, anywhere since most of them support mobile devices, saving considerable time to complete a task.Accurate Data Analysis: Work order applications output precise information relating to the data input.Improved operations: Work order apps improve operations through better communication and response times.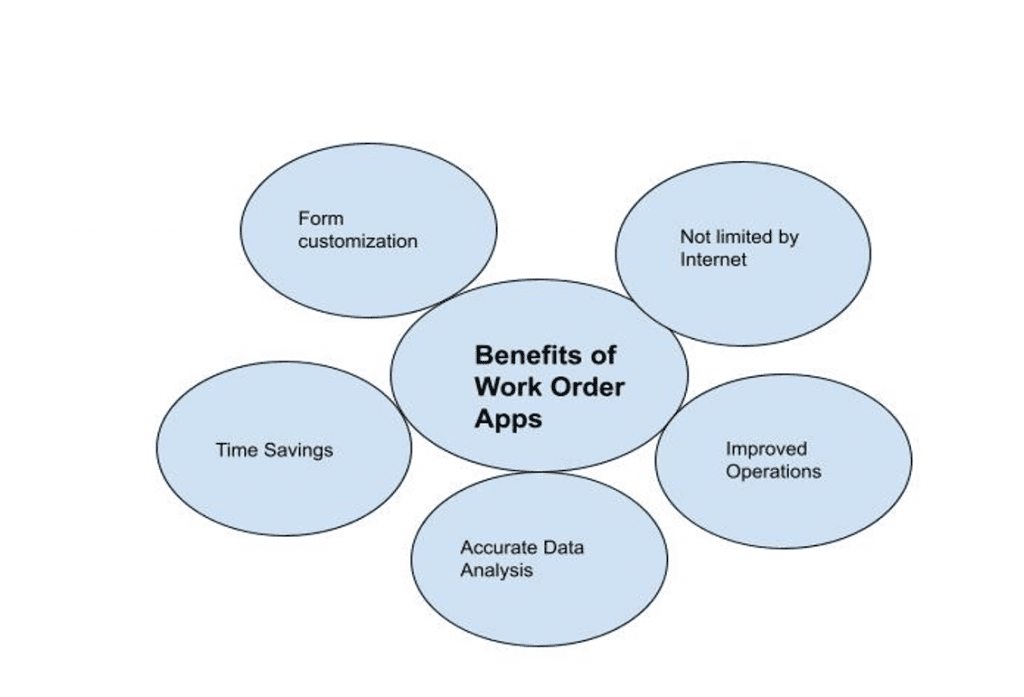 Examples of Work Management Applications
If you are looking for a work management application, below are some excellent options you may want to consider.
Notion
This is a work management app designed to merge all your tasks and related information in one place, making it an all-in-one workspace. It helps you schedule time, create your to-do lists, create a customized database, manage your projects, and organize your tasks.
There are countless templates to carry out basic tasks. The templates help create jobs and enable you to collaborate easily with teammates.
Other features of notion application include:
Compatibility with other popular services such as Twitter, Slack, Google Drive, and Figma.It is available on multiple platforms such as Android, iOS, Web, and PC.It offers a basic free version. Personal pro costs $4 per month, which is fairly priced. The pro version also has a free trial and includes features such as unlimited file uploads, version history, and much more.
Any- Do
This is a work management application that helps you group your tasks into subtasks and add tags. It also allows you to add attachments to every lesson, create jobs, and share them with teammates for easy project handling. Any-do sets reminders and comes with a priority function that helps you focus on essential issues and keeps track of them.
This work management app has other features, including;
It comes with a grocery list that automatically classifies your groceries into a particular lane for the sake of convenience.It comes with a calendar that helps you keep track of your tasks and progress.It comes with a free basic version, while the premium paid version costs $5.99 per month. The premium version unlocks features such as the creation of recurring tasks, file attachments, custom themes, icons, location-based reminders, and color tags.It is available on iOS and Windows PC.It also has a Chrome browser extension.
Things
Yes, there is a work management app by that name. Carrying around a notebook and pen can sometimes be tedious. Things solves that by acting as an assistant. The tool helps you create and assign tasks and projects and organize and structure projects as well.
Unfortunately, this application is only available for iOS device users. Siri, the iOS virtual assistant, reminds you of the tasks and projects you have lined up for the day, week, or month. You can also ask Siri to create the lessons.
The application comes with features that help group tasks into subtasks, group projects, and perform recurring tasks.
Another feature of Things is the divided cost across iOS devices, which is $10 for the iPhone, $20 for the iPad, and $50 (includes a free trial) for the mac. The best advice is to choose the iOS device you use the most and run with it.
Todoist
Todoist is a work management application that comes with functionality to divide tasks into subtasks, change themes, file attachments, add comments, and manage collaborative projects.
It has a raft of features, which can be a little bit too much if you are a first-time user of this app. So it is recommended that you first read the user documentation.
The app also comes with a template that helps you create to-do lists and organize other lists while at it.
Other features include;
It's available on both iOS and Android platformsIt comes with a basic free version, while the premium version goes for $3 per month, which is remarkably affordable when you consider all the features.
Nirvana
This is a work management app that is designed as a to-do app. The main goal of this application is to help users focus on a specific task.
Nirvana comes with features that help you add new tasks directly in the app, manage projects by sending emails to targeted addresses, schedule tasks by duration and difficulty, and tag various tasks.
It is unique because it allows you to mark the most critical tasks with stars and then automatically sends them to a focus folder.
Other features include:
Nirvana is cloud-based and can be accessed from a PC or mobile device.It supports Android, iOS, Chrome, Mozilla Firefox, Safari, and macOS.The basic free version supports up to 5 projects. The Pro version has unlimited projects and costs $5 per month and $29 per year.
Rescue Time
A work management app that helps you analyze the benefits of all the apps mentioned above. It does this by keeping track of websites visited, computer activities, and active windows.
The application also has a feature that sends you notifications to let you know if you take a considerably large amount of time to complete a particular task and provides performance ratings.
Even though this app is used to track time, it is not a substitute time tracking app.
Other Features include:
It supports Android, iOS, macOS, Windows, and Chrome.Pricing starts at $6.50 billed annually and $12 for monthly billing.
Examples of Work Order Apps
What is the difference between a work management app and a work order app? Even though the terms are often used interchangeably, work order apps are commonly used by maintenance teams to give technicians added flexibility and improve efficiency. Below are a few examples of work order apps.
Fractal: A work order app compatible with iOS and Android mobile devices. It features a Kanban-style work order management system. It also comes with cloud-based asset management and maintenance to help you manage your work orders by managing your team with the FRACTTAL Asset cloud's help. You store every asset maintenance data in the cloud and access it anywhere in real-time. It also offers a real-time data app that helps you get real-time data by utilizing the IoT to connect all your assets.
EZOfficeInventory App: This is a work order app that's convenient for tracking work orders. The application is available for any paying user and is available in basic, advanced, and premium.
Upkeep: This is a work order app that operates based on the "mobile-first approach." The mobile app ensures that each work order is streamlined and every team member is aware of their task allocation.
Maxpanda: This a work order app that comes with a feature that schedules recurring work orders on a joint schedule and assigns work orders.
Limble: This is a mobile app available on iOS and Android. It is a work order app that's suitable for work order management. It arranges processes and tracks work orders in a centralized location.
Benefits of Using Work Order Apps
Every business project has some impact on operations. The managerial approach and the infrastructure deployed to manage projects are critical to organizational success.
A work order app that doesn't break the bank is also a key ingredient to project success.
A few app developers have taken their time to develop some of the best work order apps. Below are just a few examples of excellent product design:
Squid Hub: This is a free project management app that's great for newbie project management professionals. This app mainly focuses on task management, file storage, and communication between projects. It uses a chat panel feature that allows user teams to collaborate on a project.Teamwork Projects: This is a project management app that has been around for a decade now. It has various features such as tasks and subtask boards, advanced management templates, Gantt charts, and resource management tools.Red Booth: This is a project management app designed to offer a modern interface that is also customizable. This project management app's free version offers unlimited tasks and subtasks, email support, templates, conversions, basic reporting, and a user-friendly dashboard.ClickUp: This is a project management application that offers unlimited tasks and storage. It also comes with over 50 integrations that include Google Drive and Dropbox. ClickUp offers two-factor login verification by default.Trello: This free project management app uses Kanban-style views to manage tasks. It also comes with other fun features that make project management easy such as the Butler feature provides the user with regular tips on how to automate the tool.
Looking for a Personal Project Management App?
Are you a project manager? Successful project management requires you to track resources and tasks proactively. This is challenging, and managing projects using old-fashioned methods such as pen and paper, or spreadsheets, sets you up for failure. Consider investing in the best free project management app.
Below, you can choose the best personal project management app for your needs:
Azendoo: This is a personal project management app that you can use to run your projects. It is compatible with both iOS and Android. It helps your team collaborate easily and is free for 15 days, and you don't need to sign up with a credit card.Asana: This is a personal project management app compatible with iOS and Android. The application comes with powerful collaboration features. It is ideal for structuring individual project goals, keeping track of pending projects, and adding multiple projects. You only start paying once you include 14 team members, and it is, therefore, free for single users.Microsoft OneNote: This is a flagship Microsoft personal project manager. Projects are stored in OneDrive. OneNote is mainly a note-taking tool, but it can be an excellent personal project management app if used correctly.Trello: This app is compatible with both iOS and Android devices. It has a drag and drop interface that works well on mobile devices. It comes with features that organize your projects and allows you to add comments to tasks.
Are you are still rushing to meet deadlines because organizing, tracking, and managing your projects seem impossible? If that is the case, a work management app is your answer. Whether you are part of the work-from-home army or commute to an office, use work management to become more efficient.
The post Selecting a Work Management App appeared first on ITChronicles.
Read more: itchronicles.com