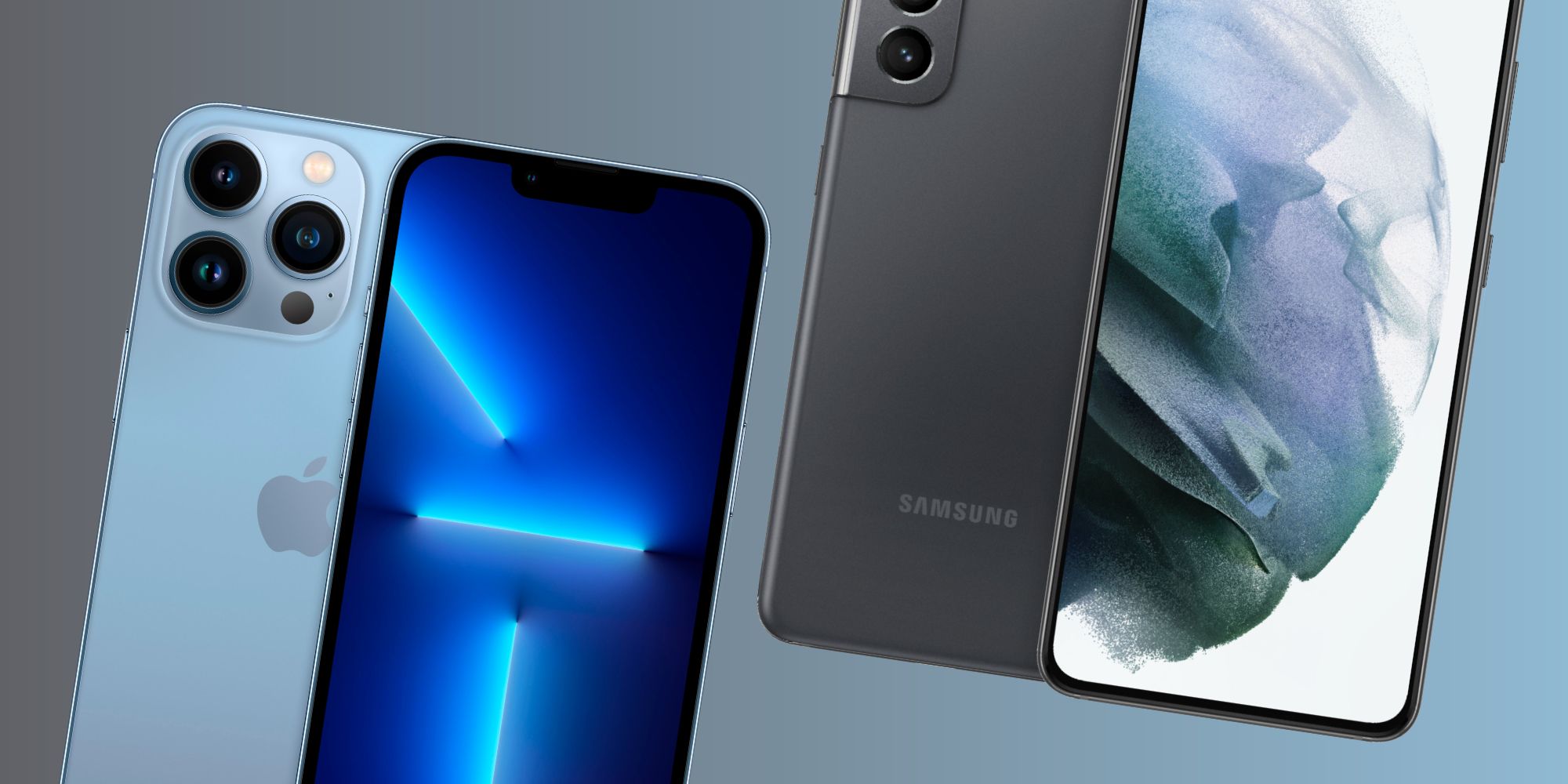 The chip shortage has been a main point of discussion for over a year now, but despite that ongoing challenge, companies like Apple, Samsung, and others have still managed to grow their U.S. smartphone business. Looking back at 2021, there's no doubt it was an exciting year for smartphones. The iPhone 13 introduced big upgrades like a 120Hz display and improved battery life. Samsung made its foldables more accessible than ever with the Galaxy Z Fold 3 and Z Flip 3. Even Google had a strong showing with the Pixel 6 lineup.
As exciting as these new releases have been, they've all come with questionable availability. The chip shortage has made it extremely difficult for companies to keep their devices in stock and ready for shoppers. Gadgets are regularly unavailable, shipping times are often delayed by months, and no company is safe from this reality. Apple recently announced that it missed revenue expectations for its latest earnings report, in addition to confirming $6 billion in losses thanks to the current chip situation.
Related: Apple Is Cutting Down iPad Production To Make More iPhones
Despite those struggles, that hasn't stopped Apple and others from still growing the U.S. smartphone market. Per the latest analysis from Counterpoint Research, U.S. smartphone shipments increased by 1 percent in Q3 2021 compared to the same time in 2020. Furthermore, there was a quarterly increase of 9 percent compared to Q2 2021. Those may not sound like huge numbers, but any kind of growth given the current situation should be commended.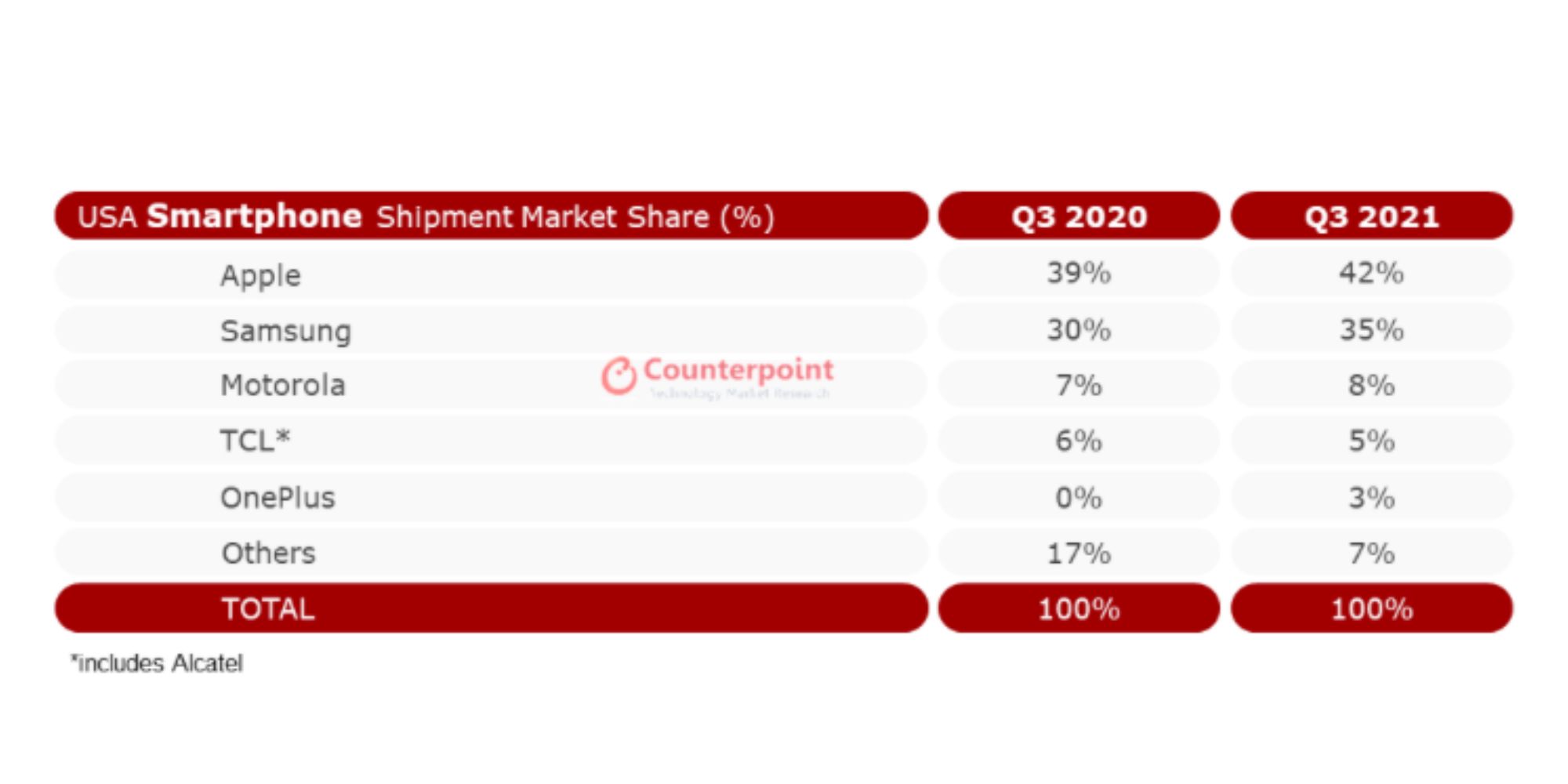 Digging into the specific companies responsible for this growth, it's apparent that there was positive movement across the board. Apple increased its U.S. market share to 42 percent in Q3 2021 up from 39 percent in Q3 2020. Samsung saw an even bigger jump, hitting 35 percent for this quarter compared to 30 percent last year. For Apple's part, Counterpoint Research says that the iPhone 13 accounted for 17 percent of total sales in Q3 and is expected to be even higher for Q4. As for Samsung, its growth is credited to this year's folding phones and its budget-focused Galaxy A32 5G.
There are also some interesting tidbits with smaller players in the U.S. market. Motorola only increased its market share by 1 percent for a new total of 8 percent, but that was enough to secure it in third place now that LG is out of the picture. TCL/Alcatel handsets are in fourth place with 5 percent market share, while OnePlus now sits at 3 percent for the number five spot (up from a 0 percent market share in Q3 2020). Regarding OnePlus, Counterpoint says its jump is thanks to budget options like the Nord N200 5G. It's a phone that's a lot less exciting compared to its flagship siblings, but OnePlus's recent focus on the low-end is clearly paying off.
With these numbers in mind, it'll be especially interesting to see how Q4 2021 plays out. Google's Pixel brand is still nowhere on Counterpoint's list, but the recent Pixel 6 and Pixel 6 Pro may very well change that for next quarter. It'll also be fascinating to see if Apple can maintain its growth and keep up with sales — especially with some employees saying inventory is the 'bleakest' it's been in years.
Next: The Wait For An OLED MacBook Just Got Even Longer
Source: Counterpoint Research
Read more: screenrant.com