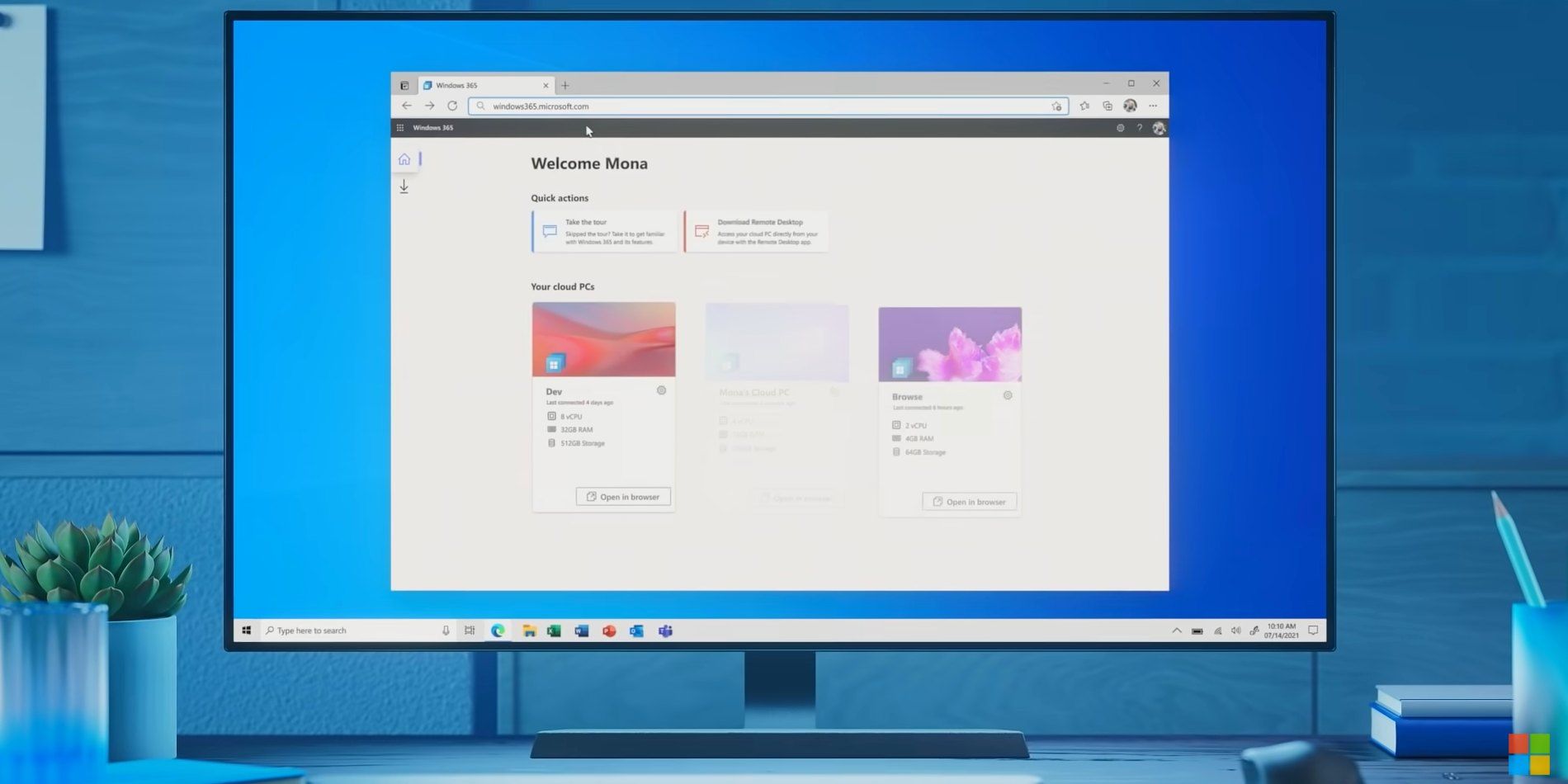 Microsoft launched its cloud-PC-for-rent service called Windows 365 last week, but the demand has apparently been so high that the company had to shut down access to the free trial. For those unaware of the concept, Microsoft will rent a Windows 10 (or Windows 11) cloud PC that can be accessed via a web browser. Think of it in the same vein as the xCloud gaming service, which uses Xbox hardware at a remote server location, but all that graphics processing power is provided to users via a browser or app on a phone or PC to play games. In the case of Windows 365, users will be able to access a cloud PC on a wide range of devices such as PC, iPad, Mac, Android phones, and soon on Linux machines too.
Microsoft's PC-in-the-cloud service will offer users an instant-on boot experience and a consistent UI irrespective of the hardware platform. The key idea is that users will have a Windows PC on the cloud that they can access anywhere on a device of their choice, resuming their work from the same point where they left it without being locked to a single laptop, desktop, or tablet. Microsoft is currently offering Windows 365 across two tiers – Business and Enterprise. The base plan assures a single vCPU with 2GB of RAM and 64GB of storage, while the top-end $158 per month plan offers 8 vCPUs, a healthy 32GB of RAM, and 512GB storage.
Related: Windows 11 & PC Health Check: How To Check Hardware Requirements
Merely days after starting the registration process, Microsoft announced that it was putting a pause on Windows 365 free trials due to high demand. Scott Manchester, Director of Program Management for Windows 365 at Microsoft, tweeted that the company is now adding more capacity to start accepting new trial applications again, but didn't provide a date as to when that happens. Folks who missed out on the trials can now sign up on the official registration page to get notified when the free trials open again. In the meanwhile, the business-centric plans of Windows 11 are up for grabs across the Business and Enterprise tiers starting at $31 per month.
For small and medium businesses as well as enterprises, the purchase window is already live. In order to buy the Business plan, access to Microsoft 365 admin center with global administrator or billing administrator roles is mandatory. The Business plans are divided into three classes — Basic ($31 per month), Standard ($41 per month), and Premium ($66 per month). The Basic plan for running light productivity tools and web browsers offers 2 vCPUs with 4GB of RAM and 128GB storage, while the Standard plan supporting the full range of productivity tools and line-of-business apps simply doubles the amount of RAM. The Premium plan is aimed at supporting high-performance workloads and therefore, it offers four vCPUs, 16GB of RAM, and 128GB of cloud storage.
A key difference between the Business and Enterprise-grade Windows 365 plans is that the former limits the number of users to 300, while the latter offers support for an unlimited number of virtual PC users. Irrespective of the tier, buyers will be able to configure the number of vCPUs they need as well as the amount of RAM and storage they require. A full breakdown of the pricing, as well as the perks available with each tier of Windows 365 can be accessed here. Right now, the cloud PC service boots Windows 10, but it will make a smooth transition to Windows 11 when Microsoft rolls out the update widely later this year.
Next: TPM 2.0 Chip: What Is It & Why Microsoft's Windows 11 Requires One
Source: Microsoft
Read more: screenrant.com