Kubota's "year of the excavator" continues with the introduction of its third compact model in 2021, the tight tail swing, 4.8-metric-ton U48-5.
"The 4-5-ton class is our sweet spot, anchored by the KX040, and by expanding the U Series, we now have a unique offering that includes all the power of a conventional tail swing in a tight tail for another perfectly matched machine for any job and application," says Patrick Baker, Kubota construction equipment product manager.
The U48-5's cab features a color 7-inch LCD display with a jog dial for single glance access to various functions such as auxiliary hydraulic flow adjustment and maintenance features. The back-lit keypad places all main switches on the right side.
Compared with the previous -4 model, the cab has a slimmer, more ergonomically positioned right meter panel and greater head and foot space, says Kubota. The slimmer frame design gives the machine more glass in the front window, skylight and left and right windows.
The U48-5 has a 74-decibel in-cab noise level, helped by a metal partition between the engine and the cab. The floor plate is also thicker to reduce noise from underneath the cab.
By moving the dozer lever, operators can angle the hydraulic angle blade to the left or right to push soil to the side as the machine moves forward, eliminating the need for repetitive repositioning at right angles when backfilling trenches, Kubota says.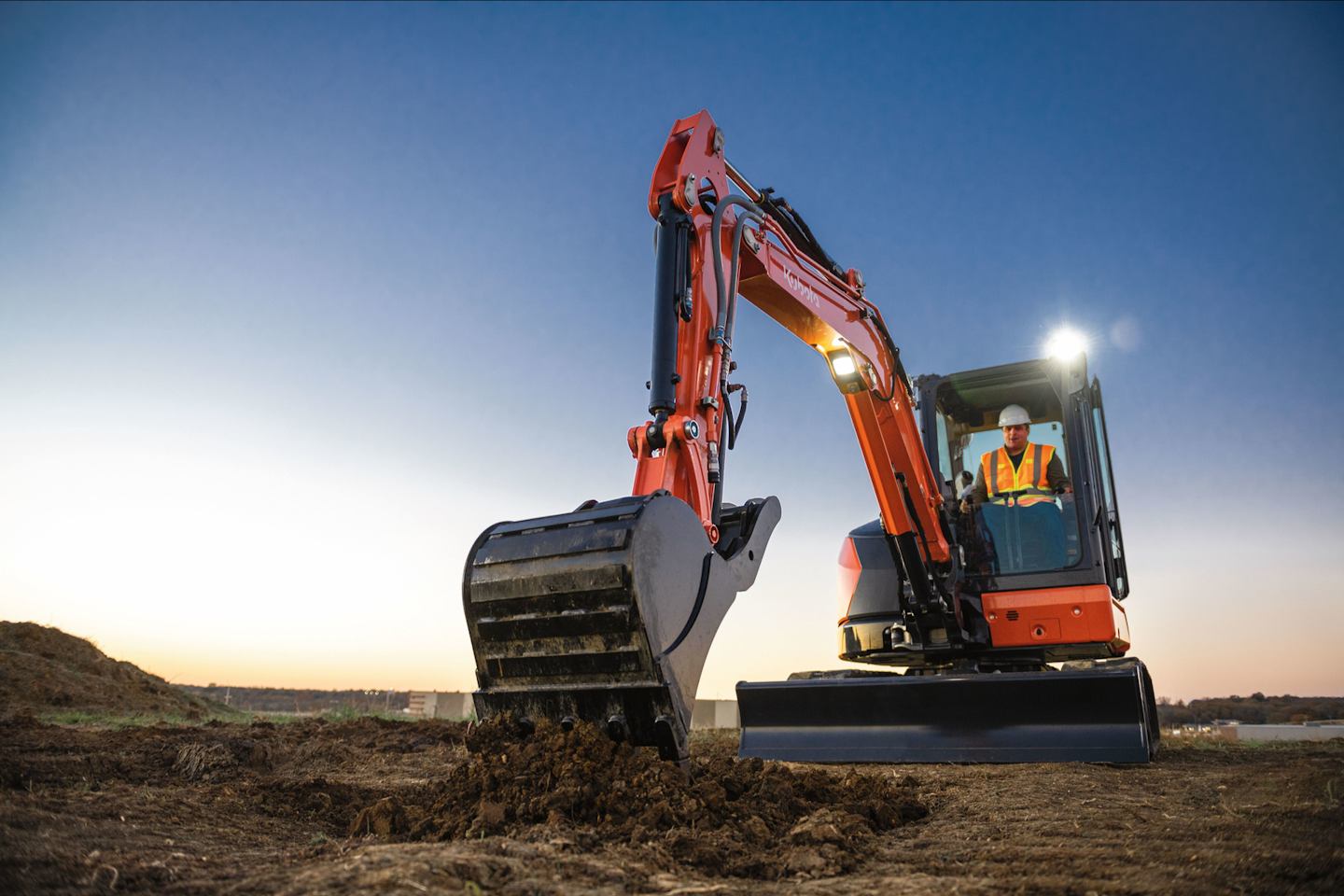 The U48-5's LED work lights can be programed to turn off 30 seconds to 2 minutes after the engine has stopped.Kubota TractorThe 11,057-pound-operating-weight machine is powered by a 40.4-horsepower Kubota engine. Maximum hydraulic flow from two auxiliary circuits can be adjusted from the digital panel. With a 10-foot 8-inch maximum dig depth, the U48-5 has a 9,304-pound bucket breakout force.
The unit's LED work lights can be programed to turn off 30 seconds to 2 minutes after the engine has stopped, allowing the operator to exit and walk away in low-light conditions under illumination. An optional keyless start allows users to start the engine by entering a four-digit code on the excavator keypad; up to 10 user passwords can be set.
Routine maintenance items — such as the water separator, DPF muffler, fuel filter, engine oil gauge, alternator and starter motor — can be accessed on one side. The radiator, oil cooler and air conditioning condenser are located under a side hood.
The two-piece hose design for the dozer blade reduces hose replacement by 60% compared with one-piece hoses, Kubota says. A tool storage box under the cab door features a grease gun holder to keep the grease gun within easy reach.
Read more: totallandscapecare.com