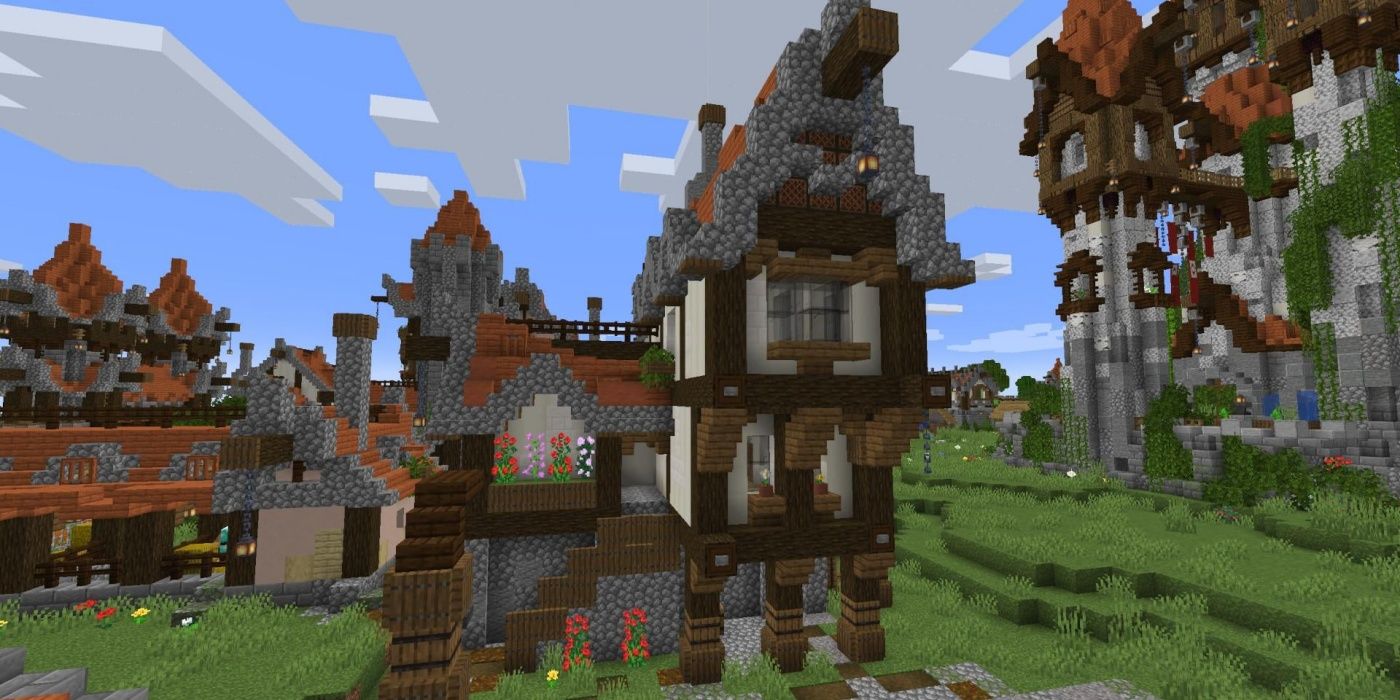 Recently, a Minecraft player shared screenshots of their stunning medieval house build, which takes inspiration from Amazon Games' newly released MMORPG, New World. The Mojang Studios-developed sandbox game continues impressing players the world over with its in-game building tools, which have only become more robust in the many years since its original launch over a decade ago. One recent creation, for instance, turned Minecraft into a 2D game.
After a lengthy development cycle and two separate delays, Amazon Games unleashed New World late last month on September 28. The title drops players into a mid-17th Century setting on Aeternum Island, a fictional landmass situated in the Atlantic Ocean. Given their roles as explorers, New World invites users to venture across the supernatural island to build their own destiny, all while fighting formidable foes, braving the wilderness, uncovering lost ruins. While solo play counts as one option, PvP and PvE gameplay opportunities further expand upon all that the MMO has on offer.
Related: Minecraft Player Gets An Impossible Enchantment In Survival Mode
Over the weekend, Reddit user UltraTyrannomax shared screenshots of their newest Minecraft creation – a medieval home inspired by structures featured in New World. The large home packs tons of character, appearing to take the form of two houses skillfully combined into one. Lanterns hang over a couple of the windows by chainlink, small flower beds are strewn about, and the combination of stone and wood materials seems nothing if not aesthetically pleasing. Take a look at the screenshots below: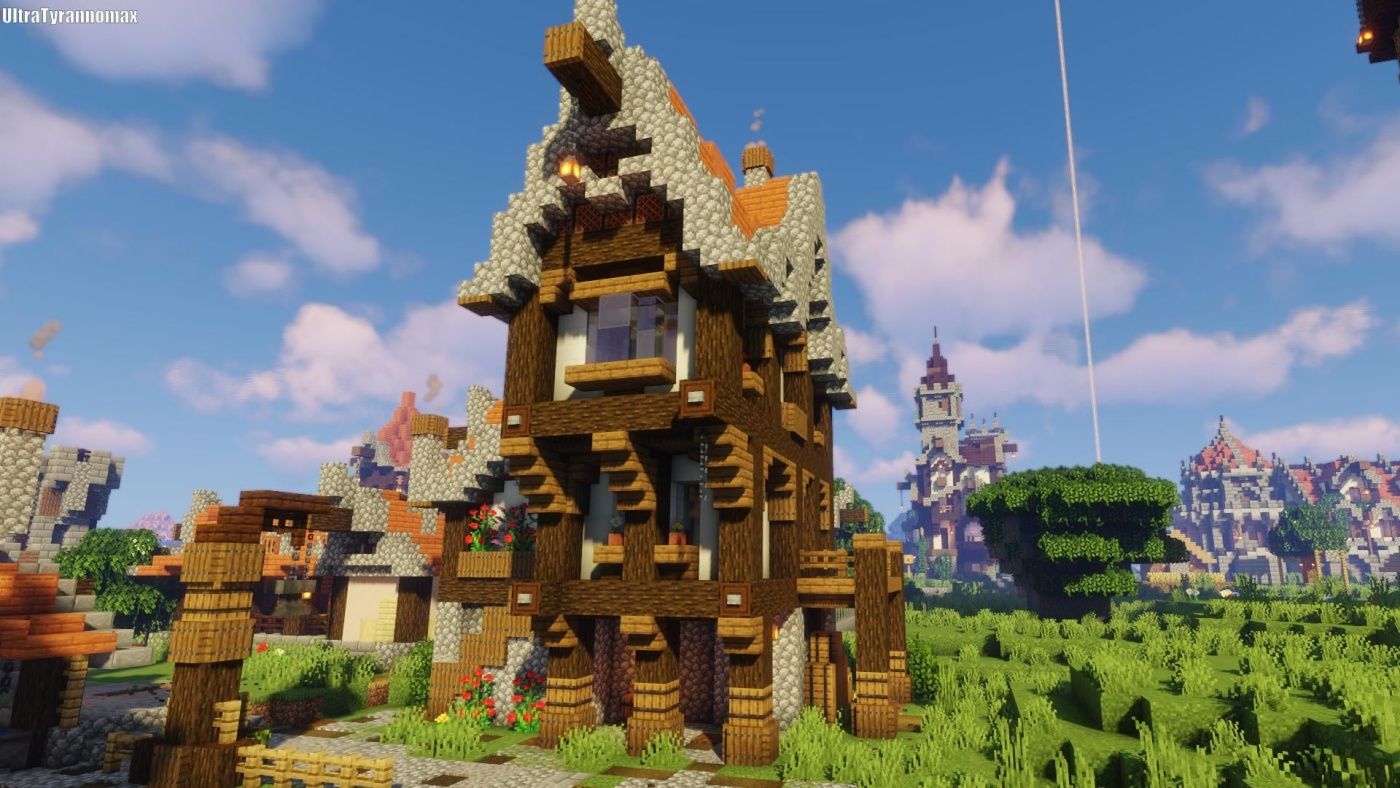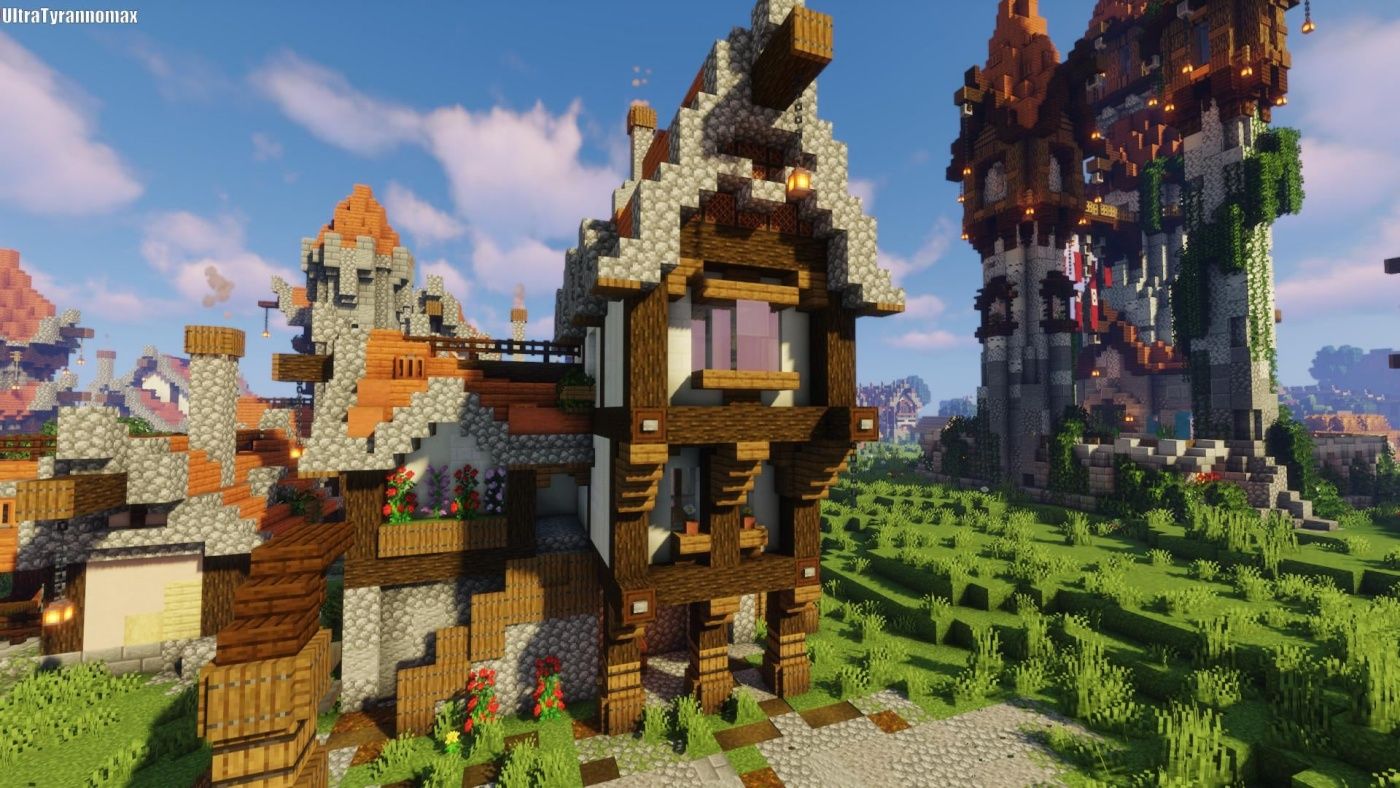 Given the popularity and meteoric success of New World, it's no surprise that players in other games have already started spreading the MMO's influence. On launch day, for instance, the Amazon Games title managed to garner a player-base of over half a million users. And New World's first weekend saw it top Steam's concurrent player count, beating out the likes of Counter-Strike: Global Offensive and Dota 2.
New World marks the first major success for Amazon's gaming vertical, which opened up shop in 2012. In 2016, the company announced three ambitious PC titles during TwitchCon – Breakaway, Crucible, and New World. A team-based multiplayer brawler, Breakaway never made it to store shelves. Free-to-play shooter Crucible launched in 2020, yet its services came to a screeching halt that same year.
Next: Where To Find Corrupted Slivers in New World (& What They're For)
Minecraft is availble to play on Nintendo Switch, PC, PlayStation, Xbox, Android, and iOS devices; New World is out now on PC.
Source: UltraTyrannomax/Reddit
Read more: screenrant.com