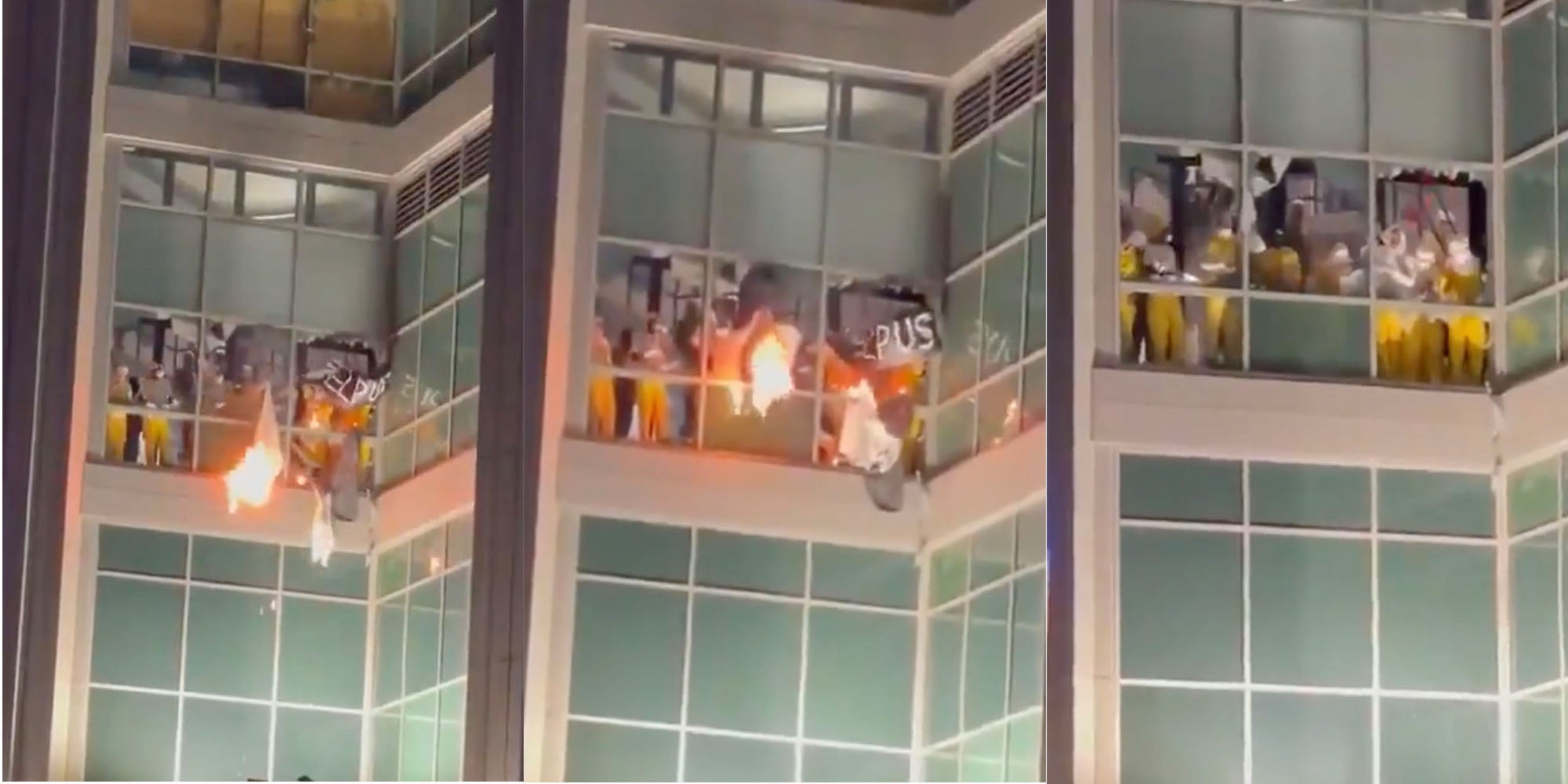 A group of prisoners at a prison in downtown St. Louis broke windows, set fire to items they threw away those windows, and shouted, "We wan na litigate" on Sunday night. The actions were defined by a minimum of one ally as an "uprising," and the demonstration is apparently associated to a comparable occasion at the very same prison simply 2 months prior.
The disruption broke out Sunday night around 9pm at St. Louis' City Justice Center, according to CBS News by method of its KMOV-TV affiliate. Press reporter Alexis Zoros tweeted from the scene, sharing video of prisoners tossing things from the 3rd flooring of the center.
When she asked Sheriff Vernon Betts who supervised, considered that the general public security director had actually simply retired, he observed, "I think I am."
.https://twitter.com/alexiszotos/status/1378908076019945473?s=20.
The TELEVISION station reported that the circumstance had actually been brought under control by about 10:30 pm, with prisoners moved far from the damaged windows, however by 11pm, prisoners broke windows on the other side of the prison and tossed extra items out the windows. As that story reported, "Thirty minutes later on, the prisoners had actually vanished once again and officers might be seen inside."
Video from the Sunday night disruption were shared on Twitter, with the Fifty Shades of Whey account tweeting out video of the prisoners shouting, "We wan na litigate."
.https://twitter.com/davenewworld_2/status/1379023334390779907?s=20.
Denis Beganovic tape-recorded "We desire court dates" chants. Somebody reacting on Twitter connected to a March 30 Fox 2 newspaper article describing the possible factor for the chants: A St. Louis County Justice Center audit figuring out that, of 1,003 prisoners being apprehended at the center, "319 have actually been waiting more than one year for their trial, 127 have actually been waiting more than 2 years, and one local has actually been waiting on more than 5 years."
.https://twitter.com/beganovic2021/status/1378899197471158272?s=20.
One of the more poignant tweets covering the Sunday night occasions originated from Khalea Edwards (@ 314khalea), a self-identified St. Louis-based organizer whose Twitter profile states, "Liberation for all oppressed individuals." Concentrating on the "Help United States" prohibited noticeable in among the videos, her tweet checks out, "Uprising at the STL city prison; they yellin' 'Help us.'"
Then, in a follow-up post, she shared a Facebook post in the consequences of a past, comparable occasion in Feb. 6, declaring unpleasant conditions at the prison.
She prefaced the link by asserting, "As long as jails and the cops exist, individuals will continue to uprise. All of us are worthy of to be totally free which indicates eliminating the jail commercial complex."
.https://twitter.com/314khalea/status/1378956084967247874?s=20.
That Facebook post, from EXPO St. Louis (with EXPO an abbreviation for "EX-Incarcerated People Organizing"), implicates prison authorities of inhumane treatment consisting of tear gas to stop a serene demonstration within the prison, prisoners not being provided adequate winter season clothes, and keeping COVID-19-infected prisoners in a cell with other prisoners instead of quarantining them.
The post competes that the outcome of the latter episode was that "24 contaminated prisoners quickly developed into nearly 50 contaminated prisoners in less than 48 hours!"
The Daily Dot has actually connected to Edwards for remark.
The post '' We desire court dates': Videos reveal American prisoners setting things on fire, tossing them out of damaged windows to demonstration conditions appeared initially on The Daily Dot .
.
Read more: dailydot.com